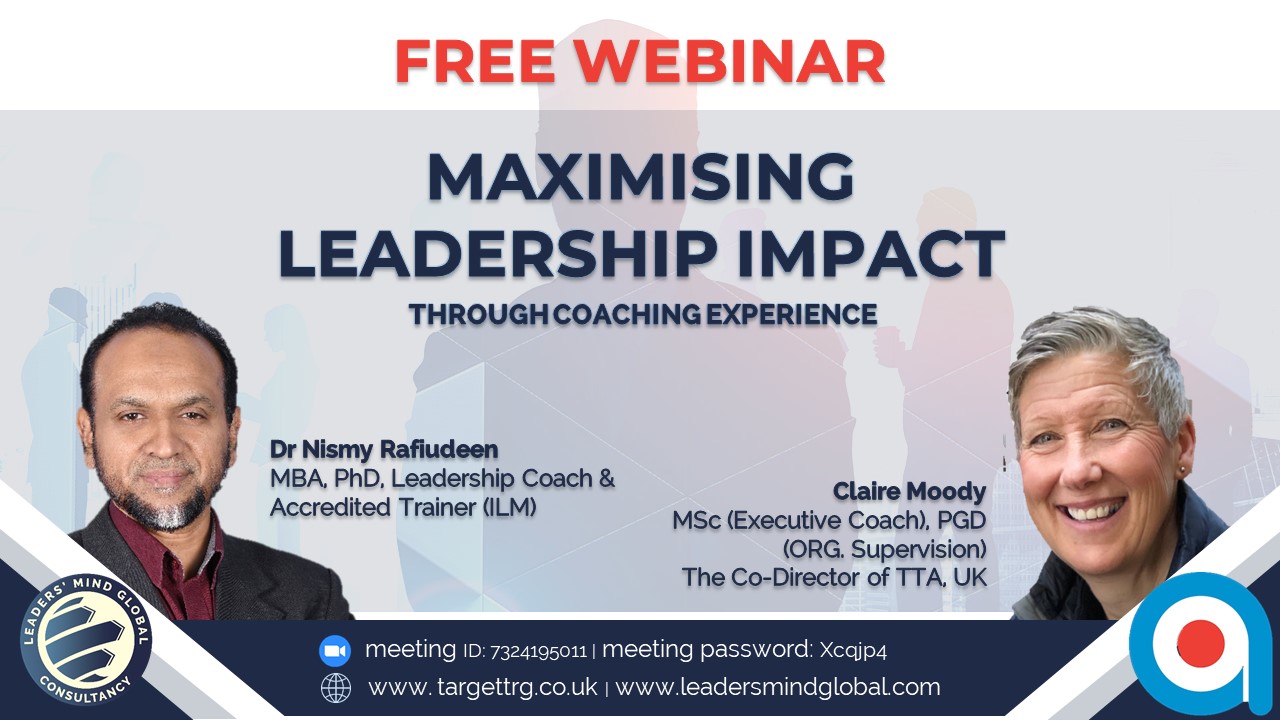 MAXIMIZING LEADERSHIP IMPACT (FREE WEBINAR)
READ (DOWNLOAD) a thoughtful write-up by Clair Moody: Ten Key Areas Leaders Miss Out on when They Do not have Coaching Skills
Leadership is an entrustment and responsibility to utilize the resources and opportunities effectively and efficiently to achieve the desired goals. When people around the leaders support willingly, the leadership process becomes impactful. However, if leaders fail to gain genuine support from their people, they will not fulfil the entrustment. However, people do not become leaders having all the necessary skills to lead their people.
Here are some alarming statistics on leadership according to the 2015 Brandon Hall State of Leadership Development report…
> 83% of organisations say it is crucial to develop leaders at all levels, and yet only 5% have fully implemented development to address this need.
> Only 15% of organisations say their leaders are "very effective" at meeting business goals.
> 71% of companies do not feel their leaders can lead their organisation into the future.
Why is this, well here are some examples of the reason why?
• They don't communicate well.
• They assume.
• They fail to listen.
• They ignore the need to build relationships
• They don't accept the truth.
• They don't hold themselves accountable and they don't hold others accountable.
• They fail to delegate.
• They fail to spend time for self-evaluation.
• They fail to give (and accept) constructive criticism.
• They fail to listen and they stop learning.
• They ignore the need to build relationships.
• They don't accept the truth.
• They don't take care of themselves.
• They fear failure and avoid risks.
• They fail to shift their mindset from "ME" to "WE".
Great leaders successfully overcome these drawbacks through enhancing the coaching skills to maximize their Leadership impact This webinar is designed in such a way to provide the participants with the necessary support to become impactful leaders.
The Presenter:
Claire is an extremely experienced trainer and coach at Target Training, and you can always guarantee she will deliver outstanding results: she is incredibly passionate about both her training and coaching. She has over 35 years of experience in training, coaching and quality assurance roles, with experience as a teacher and in Train, the Trainer, working with international clients. Moreover, she has expertise in the management of trainer inductions, standardisation and quality assurance for corporate clients. She holds an MSc in executive coaching and is accredited by Ashridge, a world leader in executive coach training and development. Additionally, she specialises in psychometric assessment, including MBTI.
She has worked at Target Training since the very beginning, staying true to the values with which the company was formed. She ensures that maximum effort goes into her courses and, if people are willing to learn, she goes that extra mile – something you will always get with Target Training. Claire is a performance coach for both the Royal Air Force and the Royal Navy, specialising in Aircrew and the Air Battle Management Branch, she has significantly improved performance and pass rates for individuals undertaking challenging courses.
With her executive coaching (as our lead coach), she is extremely motivated and focuses on unlocking life-changing insights with each coachee. Claire encourages the development of deeper self-awareness and personal insight and believes a person's past is no indication of their future; everyone can achieve change in whatever direction they choose, but they must decide and choose to do this, which is the key, committing themselves wholeheartedly. She firmly believes that people's beliefs about what is possible for themselves are their only limits. Her two preferences and specialisations in coaching are relational coaching – which works at a psychological depth, to address deep thoughts, behaviours and feelings – and performance coaching – helping individuals strive and motivate to be the best they can be. She can build a rapport from the start; this comes from a desire to help and support the coaches.
She gives the necessary attention and personal investment to every coachee for their well-being and development; this is very motivational and inspirational. She offers the confidentially to allow this to happen and a relaxed environment to achieve this. She communicates and expertly understands the needs of the coachee, which is pivotal to the relationship. Her very informal, wonderfully relaxed approach is integrative: drawing on a person-centred approach. She balances analysis with a focus on building trust so that new thinking, attitudes and behaviours can be developed. Whether Claire is your trainer or your coach, she guarantees a truly first-class experience in which you will learn a tremendous amount. Claire is a keen runner and walker and has always kept herself fit. She is a qualified pilot and enjoys flying in her spare time.
The Facilitator: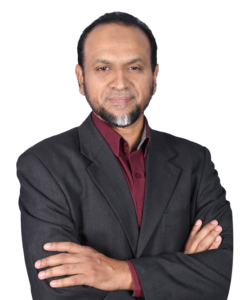 Dr Mohamed Nismy Rafiudeen is the CEO of Leaders' Mind Global Consultancy, has more than 20 years of experience as a Coach, Trainer & Consultant. He has shared his knowledge with thousands of people including Students, Teachers, Youths, Parents, and Professionals of numerous nationalities. Many businesses and community organizations have benefited from his expertise. He holds multi-disciplinary qualifications, which empower him to train and consult professionals and businesses of assorted backgrounds.
He is an Engineer by profession, with over a decade as a Senior position in The Oil & Gas industry. He is experienced in Strategic Planning, Business Continuity, Enterprise & Risk Management, Business Performance and Project Planning. In addition to B.Sc. and M.Sc. degrees in Engineering., he also holds MBA (UK), and MA (IOU).
He has successfully completed his PhD in Talent Identification Methodology and is confident in his ability to help others.
Speakers
Claire Moody

Executive Coach

Dr Mohamed Nismy Rafiudeen

Leadership Coach, Trainer & Consultant